Check out the trailer for Dominic's new movie "Ice Soldiers". Starring Dominic Purcell, Adam Beach, Michael Ironside, Gabriel Hogan, Camille Sullivan, Benz Antoine, and Raoul Bhaneja.
A scientist discovers the bodies of three frozen genetically modified Russians buried in the Canadian North. Upon thawing them out he realizes he has unleashed a deadly threat to Western society and must stop them at all costs.
Movies > Ice Soldiers >
Trailer #1 – Screencaps
AnnaLynne McCord Is 'Holding Off' on Marriage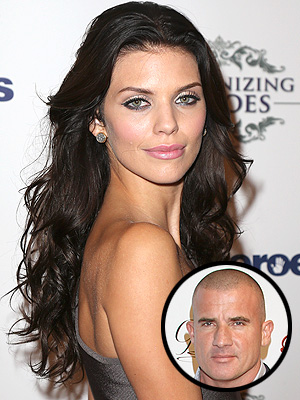 When former Beverly Hills 90210 star AnnaLynne McCord accepted her award for her anti-human trafficking efforts at the Unlikely Heroes Award Gala in Hollywood over the weekend, there was someone missing by her side – actor boyfriend Dominic Purcell.
"My darling," McCord told PEOPLE at the event. "He's in Australia with his darlings. With the kids."
Although the couple have been a serious item since 2011, McCord admits she is in no rush to walk down the aisle.
"Everybody else is doing it. I got to go against the grain. So I'm holding off," she said.
McCord, 26, who recently joined the cast of Dallas, also said that although there are no wedding plans, she knows that U.K-born, Australian-raised Purcell loves her.
"I was listening to Bryan Adams's 'Have You Ever Really Loved A Woman' on the way over here," she said. "And I thought, 'Oh my God, I think he listened to this song and that's how I know he loves me!' "
And while the pair are often in different places of the world due to their conflicting schedules, McCord acknowledged that absence can indeed make the heart grow fonder.
"We have the excitement of being away from each other then coming back together. So when we're together, we're literally on the couch watching Pawn Stars or Counting Cars."
by Matthew Cole Weiss
"I Was A Hellraiser, But Slowed Somewhat"
It's a real Hollywood story, only it happened in Australia. How Dominic Purcell, the star of the new movie "Vikingdom," got his start in acting.

"It was an accident. I was 19 and doing landscape gardening. My girlfriend was a model and I went to pick her up from her modeling agency and the casting person came out and said, 'Who's that?'

Dominic continues, "She said, 'He's my boyfriend.' He said, 'Well, he looks like he's got the face for a cigarette commercial.' So she introduced me to this camera — I'd never been involved in TV or anything, and I got the job. I got $50,000. And to go from making $800 a week, to making $50,000 shooting in Malaysai, of all places, I said 'This is the career for me."

Dominic Purcell joins Steve Edwards and Lisa Breckenridge on Good Day L.A.
Los Angeles Local News, Weather, and Traffic



Interviews & TV Appearances >
TV Appearances > Good Day LA – Sept 2013